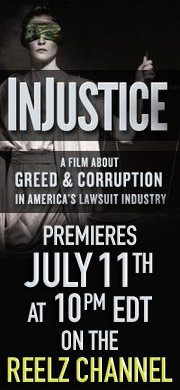 Nothing is more powerful than real life stories. At the U.S. Chamber Institute for Legal Reform, we believe that the state of America's lawsuit system, and the impact it has on everyday people, is most effectively illustrated through real stories.

That's why more than three years ago we started our Faces of Lawsuit Abuse campaign. And since then we've presented more than two dozen stories that have been seen online more than ten million times. These stories illustrate, in human terms, the corrosive effect abusive lawsuits have on our society.

While some stories like our Faces campaign tell individual sagas, others can tell broader truths. And a new documentary film called InJustice, which premieres Monday on the ReelzChannel, does just that.

A little more than three years ago, the ILR was approached by award-winning independent filmmaker Brian Kelly about his vision for a new documentary examining what he called America's "lawsuit industry," and how it had transformed the practice of law from a calling into a multi-billion dollar a year business.

Brian is a veteran filmmaker and his documentaries have been seen around the world, including such Discovery Channel credits as A Year in the Life of the Blue Angels, a history of the world's most sought-after precious metal called Gold!, and many others.

Brian had seen the constant barrage of television ads for lawyers hawking the latest class action or mass tort lawsuits. He had read the news accounts of infamous civil lawsuits for a number of years, and was interested in how the lawsuit system had evolved over the last generation into a major force in our culture. And he'd had his own brush with suit-happy lawyers on one occasion.
All of this, he said, had inspired him to make a film that would "shine a spotlight" on how the civil justice system actually operated, and how the search for justice too often degenerated into a shake-down scheme enriching a few lawyers at the expense of everyone else.

In sharing his vision with us, Brian asked us to consider financially supporting the project. After much discussion, we concluded that a full-length documentary film about the lawsuit system was a film that needed to be made.

After more than two years in the making, the result is a truly compelling story. A story that is thorough, fair, and accurate — just as Brian promised — and which cuts through the self-serving hyperbole and sound bites of all those television ads to show the reality of the lawsuit system.

InJustice isn't a puff-piece. Brian's vision called for an "honest evaluation" of the system, and the film doesn't disappoint. It's an intellectually provocative piece, with a definite point of view. But InJustice's only agenda, according to Brian, is to show how the greatest system of justice in the world is being compromised by greed and corruption, and to illuminate those dark places where the civil justice system has and is failing us all.

On Monday night, July 11 at 10 p.m. on the ReelzChannel, Brian's compelling analysis of the "lawsuit industry" will have its world premiere. We hope you'll watch and judge for yourself.
---