Time to Fix the False Claims Act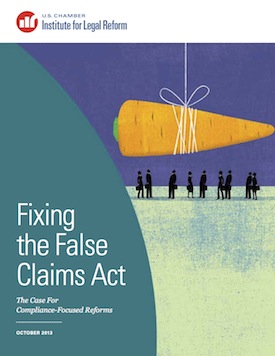 by Matt Webb, Senior Vice President, Legal Reform Policy
Every year, the U.S. Treasury Department estimates that it loses $72 billion to fraud, waste, and abuse. Similarly, every year the Department of Health and Human Services estimates that fraud costs the Medicare program $60 billion — and more than $600 billion in the last decade. That's quite a chunk of change, even for a government accustomed to running trillion-dollar deficits.
Americans should wonder if the federal government is doing anything to prevent or recover their stolen tax dollars.
In theory, that's what the False Claims Act (FCA) — whose history stretches back to the Civil War — is meant to do. But given the FCA's paltry success rate, it's abundantly clear that the law simply isn't working as intended. In fact, under the FCA, the government has recovered just $35 billion since 1987, after Congress passed several amendments to upgrade the law.
This means that in 26 years the government has recovered little more than half of what Medicare loses to fraud every year.
On the flip side, the law is encouraging trial lawyers to use an after-the-fact, punishment-through-litigation approach. As such, while doing very little to prevent fraud or recover money, this strategy actually encourages the filing of frivolous lawsuits, which cost U.S. businesses valuable resources every year.
At the 14th Annual Legal Summit held earlier this month, the U.S. Chamber Institute for Legal Reform released new report, Fixing the False Claims Act: The Case for Compliance-Focused Reforms. The report argues that as it's currently structured and enforced, the FCA, while being very good at encouraging frivolous litigation, is simply ineffective at preventing fraud.
After presenting the fundamental problems with the FCA, the report argues for a series of reforms whose aim is to deter genuine fraud while discouraging questionable and abusive lawsuits under the statute. The reforms fall under three categories:
Compliance programs: To preserve the FCA's beneficial effects, promote corporate self-reporting, and decrease incentives for frivolous litigation, the report proposes reforms that will encourage companies that do business with the government to prevent, identify, and disclose wrongdoing.
Streamlining enforcement: The paper also presents eight reforms that would address current inefficiencies in the way the FCA operates and is enforced and correct irrational or unfair practices. The amendments would be applicable to all companies and individuals, not just those companies that utilize certified compliance programs.
Improved Investigative Techniques: The report finally proposes reforming the ways in which the Department of Justice investigates incidents of fraud and abuse. Currently, DOJ's investigative tools impose extreme costs and burdens on companies and individuals.
The end result of these proposals is to overhaul the FCA, whose primary purpose remains as necessary as ever, into a prevention statute, rather than an enforcement statute. Because the law has proved ineffective at recovering taxpayer dollars through the latter, it's time to improve the former.
You can read the full report here.
Please also watch the following video from a panel at the 14th Annual Legal Reform Summit, which included a robust conversation about proposed federal FCA reforms: