TCPA Litigation Continues to Skyrocket; 1,272 Percent Increase Since 2010
As we enter 2017 with a new administration, new Congress, and renewed hope for legal reform, we are faced with the unsettling fact that the explosive growth of abusive Telephone Consumer Protection Act (TCPA) litigation continues.
The TCPA was passed by Congress in 1991, in part, to address concerns about the high volume of marketing telephone calls that were interrupting families at the dinner table. Today, however, the outdated TCPA is exploited by plaintiffs' attorneys who have applied the archaic law to modern technologies, such as smart phones.
ILR sounded the warning bell about TCPA litigation in 2013 when we released The Juggernaut of TCPA Litigation, and then again in 2014 with Lawsuit Ecosystem II: New Trends, Targets and Players.
But our warnings have gone unheeded, and we are now faced with a 1,272 percent increase in TCPA suits since 2010 according to WebRecon LLC.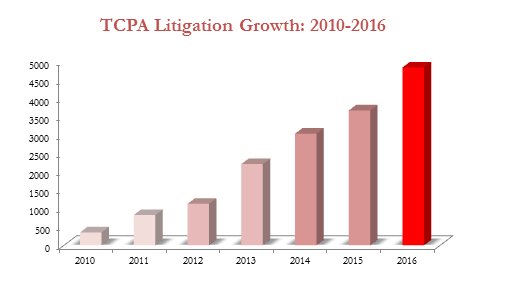 This dramatic litigation increase is due to clever plaintiffs' lawyers and professional TCPA plaintiffs (yes, there are people who actually make a living off filing these frivolous lawsuits) taking advantage of outdated, ineffective laws.
Many of these companies are sued for reasons outside of their control, such as dialing a number provided by a customer that was later reassigned to another party. If you consider that modern day texts and smart phones are the dominant method of electronic communication, and with 100,000 cell phones numbers reassigned every day, it is nearly impossible for a company to communicate important, sometimes lifesaving information, without risking a TCPA lawsuit.
Just recently, Honda discovered that some of its vehicles' Takata-made airbags were dangerous and potentially deadly. The company chose to call every Honda customer with an urgent recall notice; now, a trial lawyer is suing the company Honda hired to make those calls, citing a TCPA violation.
It is time to put an end to the exponential growth in TCPA lawsuits, which threaten businesses large and small with big lawsuits. Congress must act to modernize this outdated law to ensure that regulation does what it was intended to do while not impeding our nation's modernization.