Sheldon Silver and the Recipe for a National Asbestos Litigation Racket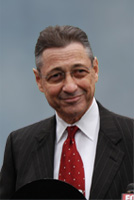 What do indicted New York Assembly Speaker Sheldon Silver, asbestos plaintiffs' firms in New York and Madison County, IL, and a cancer research center have in common? That's exactly the question Joe Nocera answers in his New York Times column this weekend.
"Chief" among the charges against Silver, Nocera writes, was "his steering $500,000 from a state slush fund he controlled to a doctor (Dr. Robert Taub) who specialized in mesothelioma — a rare, deadly cancer — in return for client referrals" to Silver's firm, Weitz & Luxenberg.
Silver also directed $500,000 worth of taxpayer-funded grants to Taub's research and, and when the grant money ran out, "Taub began referring most of his patients to Simmons Hanly Conroy, a big asbestos firm in Illinois." Taub still made "the occasional referral to Weitz & Luxenberg" and Silver even "got Taub's son a job, and directed $25,000 in state funds to his wife's charity."
Nocera details how Silver also worked, through a committee that recommends judicial appointments, to "make sure that the New York judiciary would look favorable on asbestos cases." These appointments have led the asbestos court to "become the plaintiffs' bar's best friend."
Read the full piece here.