Scandal 'Plaintiff-Buying' Scheme Just Business as Usual?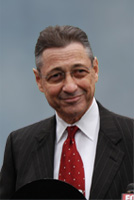 At the heart of the charges against former New York Assembly Speaker Sheldon Silver is a "plaintiff-buying" scheme which Washington Examiner today notes may be an insidious ongoing practice in the domain of asbestos litigation.
Silver is alleged to have channeled $500,000 in state funds to a Manhattan cancer clinic. "In return, the [clinic's] doctor sent patients to Silver, who then steered them toward Weitz and Luxenberg, a plaintiffs' firm that depends heavily on asbestos litigation and that employed the speaker."
As the piece notes, these allegations against Silver echo a high-profile plaintiff-buying case wherein William Lerach and his partners at the Milberg Wiess firm pleaded guilty to similar charges in 2008. At the time, Lerach stated that "buying plaintiffs was standard 'industry practice'."
"The allegations in this case and in other recent scandals remind us of how easily the mass torts system can be manipulated by those who control it, primarily for their own benefit, rather than for the benefit of their clients," notes ILR president Lisa Rickard.
Read the full article here.