Report: Lawsuit Lenders Making Big TV Ad Push in 2014
More than $6 million in television advertisements … in the month of January alone.
You might think we're describing the media budget of a major name brand, such as Apple or Ford Motor Company. Amazingly, however, that media spend belongs to the burgeoning lawsuit lending industry, according to a new report released by communications counseling firm, The Silverstein Group.
Lawsuit lending is a financial practice that provides "up-front" cash to individual plaintiffs to cover immediate living or medical expenses during litigation. These loans are typically attached to sky-high interest rates – as much as 200 percent – that leave borrowers with little to no recovery.
According to The Silverstein Group's recently-released Mass Tort Advertising Report, lawsuit lending firms:
Broadcast more than 16,000 TV ads in 2014; and,

Surpassed $6 million in TV ad spending in January 2014;

Spent $5.8 million in May on more than 3,800 ads.
The following graph, taken from the report, shows the monthly TV ad spending by these firms in 2014, thus far: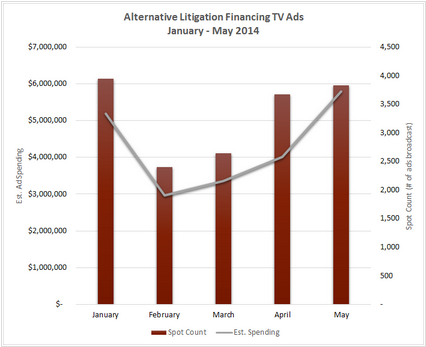 You can view the full report here.
It's clear from these numbers that the industry is growing, and hungry for new clients. With that growth comes cause for concern, as lawsuit lending is far from harmless. As we describe on ILR's lawsuit lending resource page, the practice hurts consumers by eating into their recoveries in litigation — and distorts the civil justice process by artificially inflating settlement values and prolonging cases.
That is why ILR's position is that lawsuit lending should be regulated like any other consumer financial product. Several bills have been introduced in state legislatures to do exactly that by subjecting lawsuit lenders to existing state consumer lending laws.
Oklahoma became the first state to pass such legislation in 2013. Similarly, the Colorado Court of Appeals found lawsuit lenders in the state must register under Colorado's consumer credit laws. Most recently, in 2014 Tennessee passed a law that provides meaningful regulation to lawsuit lending.
As the industry grows, we hope that other states will follow suit and protect their citizens by reining in the lawsuit lending industry.