Now Is the Time for the FCC to Revisit Outdated TCPA Regulations
Yesterday, the U.S. Chamber of Commerce and the Institute for Legal Reform joined more than two dozen business and consumer groups in asking the Federal Communications Commission to clarify how a law written in 1991 that is prompting a tsunami of predatory class action lawsuits should be interpreted in the 21st century.
The world is a lot different than it was in 1991. The biggest hit song of the year was "(Everything I Do) I Do It for You" by Bryan Adams, from Robin Hood: Prince of Thieves. The top-grossing film at the box office was Terminator 2: Judgment Day. And Tim Allen's classic TV show Home Improvement had just hit the airwaves.
Not many people owned cell phones back in 1991. They were mostly a luxury item: enormously expensive and, well, just simply enormous…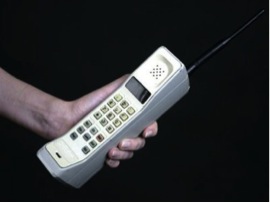 A lot has changed in 24 years. Today, over 90% of Americans own cell phones, and well over half of households are entirely or predominately "wireless only."
But, unfortunately, the Telephone Consumer Protection Act (TCPA) hasn't changed with the times, and it's creating costly headaches for a lot of people.
The TCPA prohibited the use of "automatic telephone dialing systems" (a term specifically defined by Congress), or any artificial or prerecorded voice under certain circumstances when calling a wireless phone.
Today, many organizations — including many small businesses — use automated technologies to reach people with time-sensitive information. These aren't unwanted telemarketing calls, which the TCPA was intended to prevent. As a result, many organizations are faced with costly litigation from predatory class action lawsuits due to the lack of clarity under the TCPA.
As you might have guessed, it's not aggravated cell phone owners who are filing suit: It's opportunistic plaintiffs' lawyers looking to score a big payday.
TCPA litigation has grown rapidly in recent years — by 560% between 2010 and 2014. And it's not just telemarketers who are being targeted. Businesses large and small are being faced with expensive lawsuits to defend, or expensive settlements to pay out.
And some of these businesses are being sued for reasons over which they have no control, like dialing a number provided by a customer that has since been reassigned to another person.
How do you know this is a serious issue? Even some members of the plaintiffs' bar agree! The American Association for Justice (formerly the Association of Trial Lawyers of America) was named in a class action lawsuit for sending fax advertisements to some AAJ members. It turns out AAJ partnered with a third-party vendor who sent out the blast fax and that vendor used no opt-out language. Despite that, AAJ asked for a retroactive waiver from the FCC. Such a waiver would allow AAJ to have a do-over—essentially erasing their past actions.
So rich!
This cannot be what Congress had in mind in 1991.
We are urging the FCC to take a new look at the TCPA. Consumers and businesses alike need clarity and commonsense reforms to bring this law into the smartphone-dominated 21st century, while still protecting consumers from unwanted telemarketing calls — and protecting businesses and other organizations from predatory lawsuits.