ILR Report Reveals Troubling Inconsistencies in Garlock Trust Claims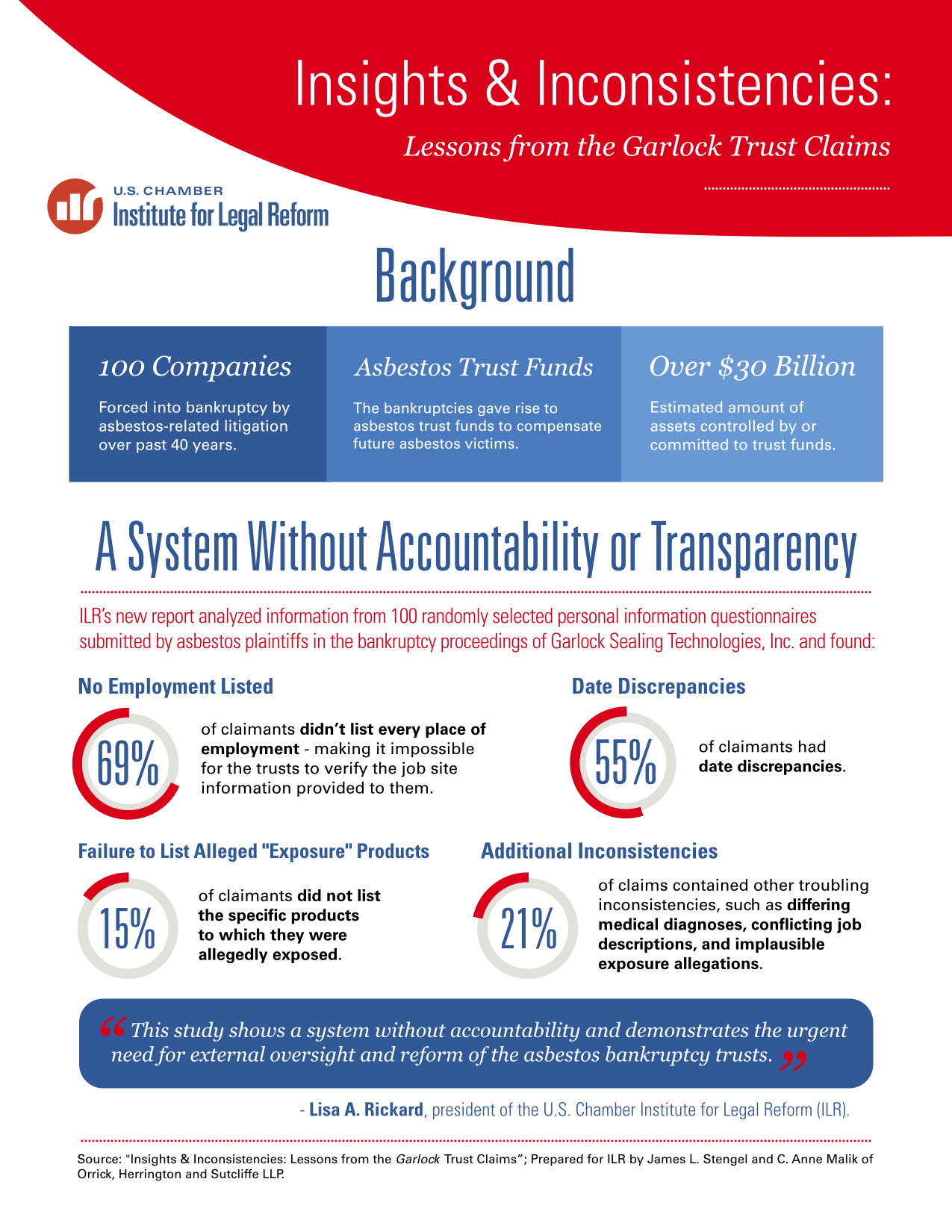 Asbestos litigation is the longest-running mass tort in U.S. history. In almost 40 years, nearly 100 companies have gone bankrupt, with tens of thousands of jobs lost, and significant economic damage. Meanwhile, many victims have been affected with serious diseases and rightfully deserve compensation.
The trusts established in the wake of these bankruptcies were meant to support current and future asbestos victims and offer a fair resolution of their claims. However, for years the trusts have ceded control of governance and payment criteria to plaintiffs' attorneys – often times the very same attorneys who stand to benefit when the trusts pay out claims.
Plaintiffs' attorneys hold a near-absolute control over the trusts and have deliberately hard-wired a system without meaningful oversight. Because of these well-designed institutional loopholes, the trusts fail to coordinate with one another to assess and offset claims payments, allowing plaintiffs' attorneys to put forward conflicting and inconsistent claims to secure payouts for their clients, and ultimately, reward themselves generously. In principle, these tactics actually harm asbestos victims by diminishing available funds for those with meritorious claims.
The Garlock bankruptcy in 2010 revealed just how egregious the abuse is in the current trust system. During Garlock's bankruptcy proceedings, the court found, after analyzing personal information questionnaire disclosures from Garlock claimants, that some of the law firms deliberately suppressed evidence of their client's exposure in tort cases, but later submitted that very information in trust claims to maximize their payout and effectively game both systems. As a result of these findings, the court significantly lowered Garlock's asbestos liabilities from $1.3 billion to $125 million.
Two recent reports, A Look Behind the Curtain (Mealey's) and The Waiting Game (ILR), illustrate, through detailed case examples from the Garlock database, the stark contradiction between exposure evidence presented by plaintiff attorneys to tort system defendants and evidence supporting claims made against asbestos bankruptcy trusts.
And ILR's newest report, Insights & Inconsistencies: Lessons from the Garlock Trust Claims, is the latest example to offer growing evidence of fraud in the trust system, underscoring the urgent need for Congressional oversight and reform.
According to the report, which examines 100 claims from the Garlock database, asbestos trusts are plagued by inconsistent and fraudulent claiming patterns. The report finds that 69% of claimants did not list every place of employment at which they alleged exposure with every trust. Fifteen percent of claimants did not list specific products or brands to which they alleged exposure, and 55% of claimants had date discrepancies across claim forms.
Alarmingly, 21% of the claims displayed even more troubling discrepancies across forms, such as differing medical conditions, inconsistent job descriptions, and implausible exposure allegations.
What is clear from this report, and the two reports that preceded it, is the trusts do not adequately compare the allegations being made across trusts. Had any such comparison taken place, the discrepancies identified would at least have raised red flags and demanded further explanation and documentation.
The U.S. House of Representatives recently passed the Furthering Asbestos Claim Transparency (FACT) Act to protect the remaining trust funds for future victims. With yet another example highlighting the exploitation and manipulation of a system intended to help victims, the time is ripe for the Senate to act and pass this key piece of legislation. So long as this abuse continues, victims will continue to be unnecessarily harmed.
Check out the Infographic below to view more of the highlights of this report: