Illinois Trial Lawyers Defend Illinois', Madison County's, Lawsuit Climate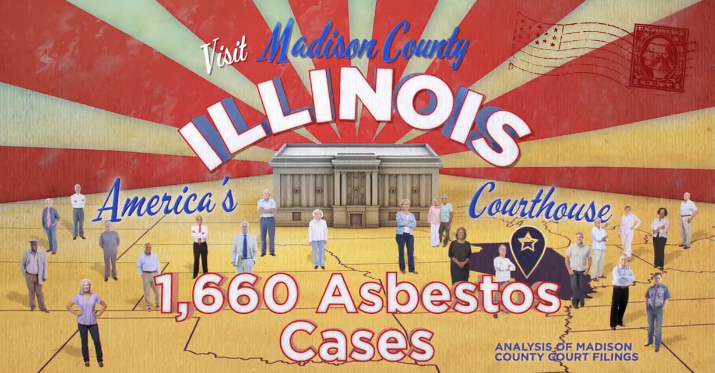 Despite Illinois' paltry (46th out of 50) ranking in ILR's Lawsuit Climate rankings, the fact that two Illinois counties (Cook and Madison) are among the country's least fair and reasonable legal climates, and one Illinois county's (Madison) reputation as "America's Lawsuit Capital" — the Illinois trial lawyers are actually defending the state's lawsuit climate.
In an interview with editors from The (Moline) Dispatch and The Rock Island Argus, Stephen Phillips, past president of the Illinois Trial Lawyers Association, argued that the "Illinois business environment and economy" are not as bad as Gov. Bruce Rauner (who favors legal reform) and business groups claim.
ILR is currently running a public education campaign in Madison County, IL highlighting the high number of out-of-state and out-of-county plaintiffs who file asbestos lawsuits in that county. In 2013, 99% of the astounding 1,660 asbestos cases filed there were from out-of-county claimants. In 2013, less than 9% of the 1,300 asbestos cases were filed by Illinois plaintiffs.
Phillips, however, said it is efficient for both plaintiffs and defendants to file in Madison County rather than attempt to litigate cases all over the state.
Read the full story here.