Analysis: TCPA Litigation Skyrockets Since 2007; Almost Doubles Since 2013
"A destructive force that threatens companies with annihilation for technical violations that cause no actual injury or harm to any consumer."
That's how Becca Wahlquist, an attorney for Snell & Wilmer, recently described the Telephone Consumer Protection Act (TCPA) in a news story marking the law's 25th anniversary.
To be sure, the 25-year-legacy of the TCPA has been marred. The law is now better known as a profit center for enterprising plaintiffs' attorneys than a meaningful tool to actually protect consumers.
The numbers don't lie.
According to an analysis by WebReconLLC, the number of TCPA litigants in this country increased from just fourteen in 2007 to an astounding 3,710 in 2015.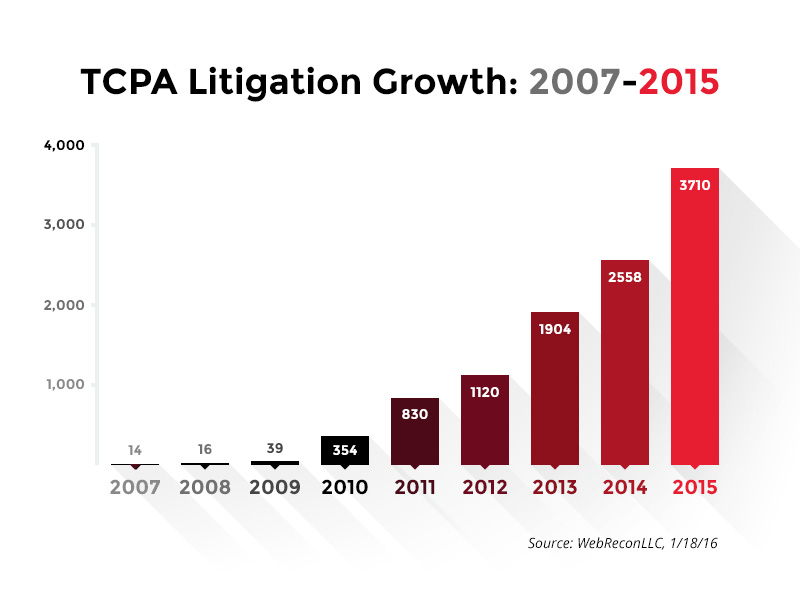 ILR sounded the warning bell about TCPA litigation back in October 2013, when we released The Juggernaut of TCPA Litigation: The Problems with Uncapped Statutory Damages.
Since that time, however, the number of TCPA litigations has almost doubled, up from 1,904 litigants in 2013. In fact, TCPA case filings increased over 940% during the five-year-period between 2010 and 2015.
The growing scourge of TCPA litigation has led to calls for reform in Congress that are, not surprisingly, being staunchly opposed by the plaintiffs' bar. The Federal Communications Commission (FCC) recently issued an order "clarifying" bill that Wahlquist says is "atrocious for business."
The FCC's order set up rules that put businesses at fault if they call a customer number that was reassigned to another person without the business' knowledge. Businesses are only allowed one wrong number call and can be held accountable, even if the recipient of the call does not tell them they have called a wrong number.
Talk about a recipe for litigation.
Unfortunately, relief won't come until the FCC reverses course and Congress commits to clarifying the interpretation of the law to protect businesses from these lawsuits.